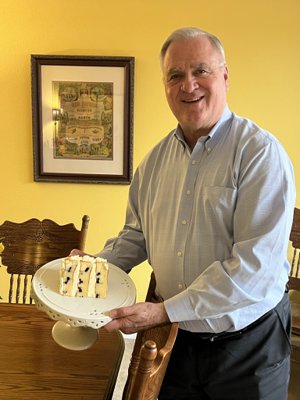 If you are in business or marketing you have probably heard of the acronym: FOMO
It means "Finally One More Opportunity" correct?
For many desert lovers, cake is a wonderful pleasure.
When you see the whole cake, it is easy to wait your turn to enjoy it, one bite at a time.
But when there is only one piece, and several people have yet to get theirs, FOMO often steps in and takes over.
Fear Of Missing Out
Emotions take over and cut circulation to the brain, throwing logic out the window.
I don't want to miss this opportunity to satisfy that sweet tooth craving within.
I love cake, I deserve that piece of cake. I can taste that soft sweet bite before it hits my mouth and overwhelms my tastebuds.
I will take that piece of cake before someone else does.
After all, that is why it is there, right?
Take it, Enjoy it. It was offered to you.
If however, someone else took that last piece of cake, you may feel disappointed for a minute but it probably wouldn't be a life changing event.
Fear of Missing Out also applies to behavior on a much bigger scale.
It could apply to buying a house.
The Fear could be real but it shouldn't cause you to put yourself at undue risk.
Let's look at the housing supply over the last couple of years in our RMLS system:
Is there a real fear of missing out based on inventory alone?
This is how much March 2022 inventory is down in Oregon and SW Washington compared to prior years:
March 2022 has 57.17% less inventory than March 2017
March 2022 has 56.79% less inventory than March 2018
March 2022 has 60.90% less inventory than March 2019
March 2022 has 55.22% less inventory than March 2020
March 2022 has 13.67% less inventory than March 2021
Add to that Fannie Mae's last August 30 year rate of 2.84% compared to yesterday's average rate of 5.0%
In case you miss it, that is a 76% increase in interest rates since last August.
Remember, that 5% rate is an average and is credit based. So it could be 5% or even as high as 6% depending on your credit..
The next layer in addition to inventory and interest rates is the obvious increasing home values.
Here is "Percentage change from previous year of single-family housing prices in the different states of the United States as of 4th quarter of 2021" according to Statistica:
Oregon was up 18.05%
Washington was up 20.12%
With inventory down 55.2% from two years ago, interest rates up 76% over the last seven months, and values up by 18%-20% in the last year, there is a reason to have Fear of Missing Out (FOMO).
However, Fear should never be the basis for your or my decision.
What can be done to increase your chances?
Spend less than you make, if at all possible. Work on improving your credit score by first meeting with a loan officer who can guide you through that process. Buy what you can comfortably afford and maybe not what you could qualify for.
One couple I was working with decided to get a 30 year fixed loan which would have an interest rate adjustment after 10 years. It helped them get a lower rate than a standard 30 year fixed and they had a plan to lessen the impact of an interest rate increase ten years down the road.
Talk to an accountant, but maybe a relative could gift you some money to help you get your first home. Another option would be for them to co-purchase it with you or buy it and let you rent it with a lease option to purchase at a given price and part of each payment going toward your down payment.
Consider the possibility of moving to an area where prices are lower than where you currently live.
Sady, for some, now may not be the time buying a home is possible.
If you know what you want in a home and also have a good understanding of what kind of real estate market it is, then you can move forward with confidence that your decision was a good one and not Fear based.
Who knows, you may even celebrate getting that home with a piece of your favorite cake.