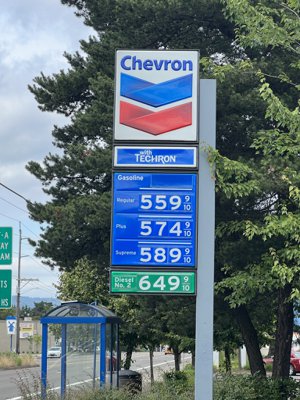 Driven by a gas station lately and read what has historically been called "gas prices"?
I had spoken with a lender earlier in the day to see where interest rates where at and can you believe it, here is what she said:
A 30 year conventional loan with 20% down and a good credit score of 740 would have an interest rate of 5.625%.
What did the gas station display say the best pricing was? $5.59
Current pricing for home loans gives the best rates for the best credit scores and then increases the interest rate as ones credit score declines.
Looking at the gas station display you will see what might reflect regular as the best pricing for the best credit score and increasing costs as the gap increases between a 740 credit score and what yours might be.
The average 30 year fixed rate mortgage for the middle of February of 2022, four and a half months ago, was 4% and the average gas price in Oregon for mid February according to gas buddy was just below $3.96.
There you go, proof positive that gas stations are posting current interest rates to keep us informed...
...In reality, as you know,, the gas prices displayed when you drive by may not be a truly accurate indication of interest rates but it is kind of interesting to think about and at the least, inflation and supply and demand, will yield some common trends.
So the next time you drive by a gas station and see prices going up, there is a probability that interest rates have also gone up.
Contact me and I will put you in touch with a great lender to see where rates are at and how your credit score may differ from the rates you see in ads or online.