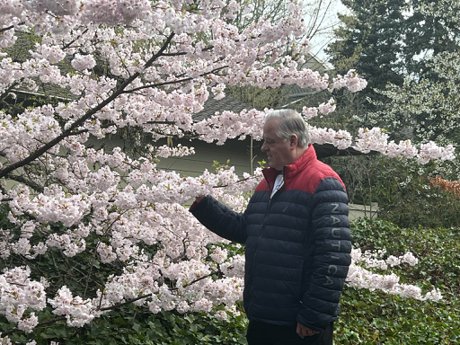 The Pacific Northwest is known for luring people to its beauty whether you like to sit and watch what is going on around you or you like to go hiking, skiing, or for a walk on the beach.
My wife Patti and I enjoy many of those same things. One that is most enjoyable for us is walking. And would you believe it, it is also good for us!
We will walk amidst the downpours and occasional flash floods, which is doable but not always enjoyable.
Spring on the other hand is a fantastic time to go for a walk.
It can be like walking through a wonderland. The cost, free. The memories, priceless!
Sometimes we go out the door and start walking and other times we drive to a park or even a restaurant or store and take our walk from there.
After months of cloud cover and drizzle the sky starts to light up and morning time is like a new beginning.
As we walked this morning nature was embracing life to its fullest.
Flowers were starting to bloom and trees showed their true colors: white, pink, and many shades of green.
As good as the newest TV screens are, imitation doesn't compare to reality.
Everywhere we turned colors burst into our line of sight.
The beauty we were surrounded by was taken to the next level by the serenade of birds that grew louder as we walked by.
How encouraging. How uplifting.
You may also have this happen to you, but sometimes I spend too much time inside my head. I am thinking about real estate, the economy, marketing,what's going to happen, what is happening. I think about my wife Patti, our kids, grandkids, and friends.
If you have ever heard the statement "Wherever you are, be there", then you know how uplifting springtime can be. It causes you to look outward. To be thankful for some of the simplest of life's pleasures.
For me it involves taking my focus from within and what I am wrestling with, to what is going on around me, where I am. So that I can be there.
I appreciate living in a place where I can take a walk whenever I want.
I am thankful Patti takes time out of her day so that we can talk and share together this experience of what is going on around us.
When I first moved to the northwest I lived in an apartment. No walking paths nearby.
But the Pacific Northwest and Vancouver metro area have many parks, walking and bike paths, hiking areas, and outdoor activities available.
Whether we like to curl up on a park bench and soak up the sun while we read a book in solitude or we play basketball with the kids, tennis with a partner, or hiking with a group, springtime and outdoor activities are met with enthusiasm.
As spring and summer approach and kids get closer to finishing up school for the year, real estate activity picks up.
It is an influx of changes in the lives of people around us.
It is a time of new beginnings.
The State of Washington had a net influx with 54.5% moving to Washington and 45.5% leaving.
To the south, in 2014, there were two families moving into Oregon for every family moving out, according to United Van Lines. In 2021 the same study showed one and one-half families moving into Oregon for each one moving out.
Those moving to the Northwest from California may look forward to the greenery and mild but distinct seasons we have.
The ability to go to the coast on a Saturday and then head off to some snow skiing on Sunday may be a lifelong dream of those who live in the midwest.
Maybe you are wanting to start over with a house of your own rather than renting. Or you decided to sell your California home where the average price (according to the Zillow Home Value Index for 2021) was $683,996 and could buy you more of a home in Washington with its average price of $519,552. A 24% savings! With Oregon's average of $447,968 you would be saving almost 35%
With all of the excitement for spring, a move can be a little unsettling, especially for kids in school or who have established friendships.
I think of all of the activities our grandkids are involved in and come to the conclusion that if they were to move at this point in their lives, it would have a major impact.
They are in school activities, sports, and friends they spend time with. Cutting them off from those routines, even if a move were for a new job and all of the benefits that entailed, would still rattle their world.
It is exciting to see flowers and plants come up out of the ground and start to bloom, even if in places you forgot they were. There are also those seedlings the wind or some critter may have buried, and they start to flourish where they are.
Sometimes the greatest signs of growth in spring happens in areas that earlier in the year had the most manure dumped on it.